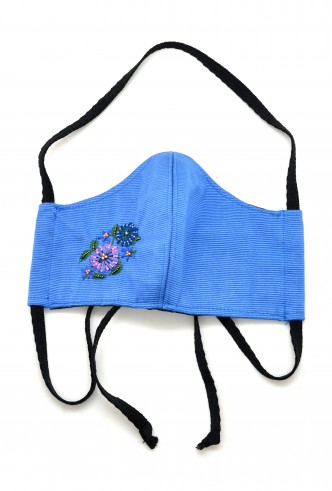 Blue Cluster
Embroidered Blue Mask
You'll be amazed with the beauty of our handmade fair trade face masks. The front of these masks use back-strap hand loom sapphire blue fabric. The reverse side uses a smooth black cotton. There is an interfacing in the inside, which we think might add a layer of protection. Our design has a sleeve that allows you to slide in a filter, for more protection. And there is a place sewn in where if you choose, you could slide in a wire or pipe cleaner to shape the mask to your nose. The long strap to tie the mask on is black cotton. Each mask has been adorned with embroidery with glass bead accents which makes these very special. This is all done by hand. Each mask is one-of-a-kind and we will ship you the exact ones you select.
Please carefully look at our photos. Sometimes in the weaving process you will see stripes of color. Because threads are dyed by hand and then woven, you will discover these bands of varying shades. We adore these traits handmade fabric. If you see this in our photos, and this trait does not appeal to you, please select a different mask.
These are not medical grade masks.
We recommend hand-washing these masks and hanging them to dry.
Length 8", Width at center, 5", Width at sides approx 3.5"
Czech & Japanese glass beads, cotton fabric & thread
Made in Guatemala
All face mask purchases are final. We do not accept returns on face masks.
Qty